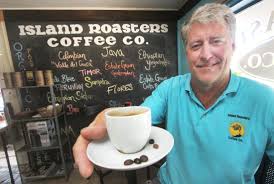 Our mission here at Yaupon Brothers has always been one rooted in the idea of community. It's a mission that has always tried to help tackle big issues by starting small and uniting on a local level. Today we want to highlight and celebrate a partner that has believed in us since day one. One that, without their early support, there very well may have been no Yaupon Brothers. If you know us, then you know we're talking about Island Roasters Coffee here in our hometown of New Smyrna Beach. 
Our story with Island Roasters starts in early 2014 when my brother and I met Scott and Tara Clawson at a local farmers market in our hometown. They were about to open their shop and we were some young kids just slinging tea to anyone that would try it . Scott and Tara tried the tea and decided they should take a chance on us and carry us in their soon to be open shop. Over the next year I would spend hours there everyday studying my college classes or taking a break from a long day. I spent so much time there that the Island Roasters crew became like a second family to me. Little did we know that this quant shop would end up selling more Yaupon than almost anywhere else in the world. That's not an exaggeration, by the way. Out of the 400+ stores across the globe that sell Yaupon Brothers, Island Roasters is right at the top. 
But Island Roasters has had more of an impact on our company than just sales. Often you can catch Bryon and I sitting at Island Roaster's single table where we're talking to random people in the community who eventually become friends. These new found friends are the ones who help build the foundation of our company and spread the word of Yaupon Brothers. 
In a few short years Island Roasters has become a local staple in the community. The Yaupon Team and I always hear "we tried your tea at Island Roasters" or "I see your tea there all the time!" This little shop has brought our community together with its widely renowned coffee and tea (obviously). The perfect demonstration of why engaging in your community while putting out the best possible product is always a recipe for success no matter the beverage. 
So next time you're in New Smyrna go ahead and stop in and try a Lavender Coconut cold brew (made with both our tea and their coffee) and make sure you say hello. Maybe we'll even see you there.